Having a patio fire pit is the perfect addition to your backyard! Not only do they look great, but they can be incredibly useful too.
A backyard patio fire pit usually becomes a substantial focal point for your yard. It adds some beauty and character to your outdoor living space. Another thing that I love about fire pits is they become the central hub for hanging out and spending time with family and friends. Barbecues become even more fun when you have a fire pit to roast some snacks or hot dogs at!
We offer Texas custom patios in Dallas that you will be glad to show off to your friends. We wanted to give you some inspiration, so when you are ready to finally take the leap and have a fire pit installed, you'll have a good idea of what you might like.
Patio Fire Pit Boosts Resale Values
Besides just having fun with your Texas custom patios in Dallas, the metroplex's market has proven that adding a custom patio can significantly increase the value of your home. So, if you are considering putting your home on the market, this is the prime time to add in a few upgrades.
This will not just increase the value, but it will give potential homebuyers another reason to fall head over heels in love with your home. It's all about making your space stand out above and beyond all the others that are for sale.
Adding a patio fire pit is a wonderful place to start. It will draw their eyes into your backyard, and they will naturally want to stay a while too. Making your space feel inviting is essential as adding value to your home because the potential buyers will be able to naturally see themselves living there this way.
Gorgeous Patio Fire Pit Ideas
A custom-built fire pit has many advantages over a store-bought one. Yes, they cost more, but (when properly cared for), they can literally last forever.
Additionally, a custom fire pit allows you to get all the features you want in your space. You can select the shape and finish you like, as well as ensure that the finished patio fire pit fits with your landscaping.
Need some ideas to get started? Here are some of our favorite built-in firepits!
Fire Pit with Built-In Bench
This is one of my favorite firepit projects we have built. The gorgeous backyard is a great example of how a built-in firepit can be equal parts beauty and function.
The custom bench that's added to the back creates a natural seating area for people to use while enjoying the firepit, while also framing the area in.
Patio Fire Pit with Built-in Bench
As you may be able to tell, I'm a huge fan of firepits with a bench built into the back! There are so many reasons this is a great combination.
The seating area is in a spot that will be used frequently, so it's practical, but it also looks gorgeous. This is a great way to finish off the patio design.
Circle Paver Fire Pit Idea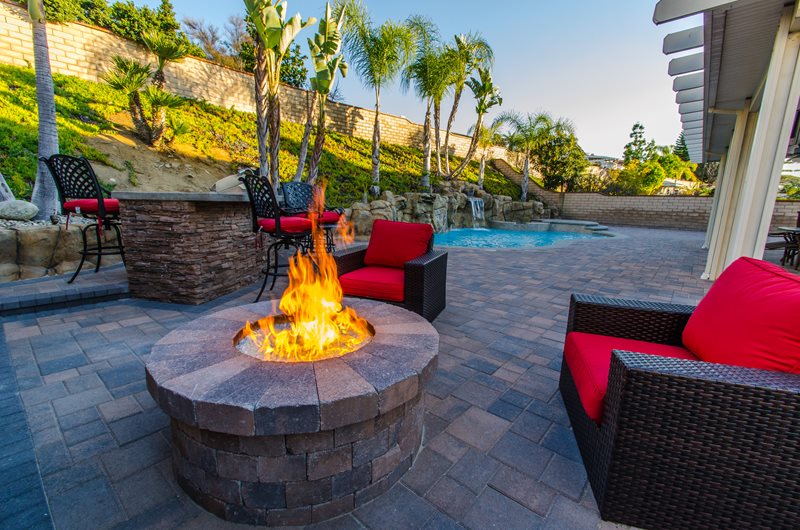 I came across this patio paver fire pit on the Landscaping Network! The natural colors of the pavers match the patio itself perfectly. It's a beautiful combination and looks like the fire pit naturally comes out of the ground.
Because it's on the taller side, you can sit in a chair and feel the warmth without having to bend over it like many you've seen. As you can see, they added beautiful pops of red, and with the greenery in the background, it gives you a show-stopping patio with a fire pit!
Separate Oasis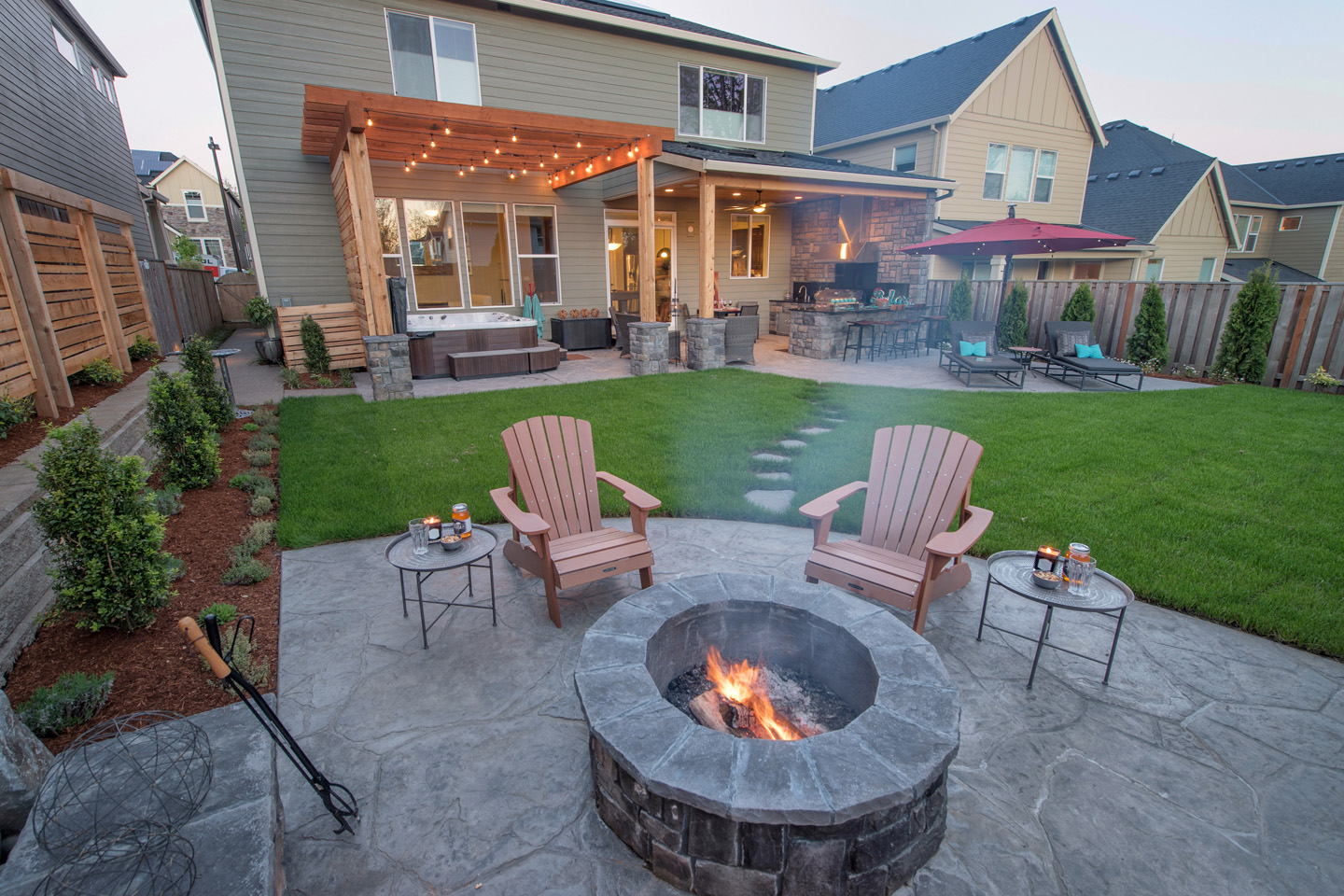 This was actually a backyard makeover that The Spruce goes into detail about. I love how the fire pit is away from the typical back patio, in its own location a good distance away from the house. This recessed look like this will make it feel like you are at a campout, and make the fire pit experience even more relaxing.
I also like how they opted for flagstone here, as opposed to the standard circular pattern going around the firepit. This adds a lot of depth to it and makes it look like a piece of art instead of a patio. One thing is for sure; it will be a conversation piece, to say the least.
In The Ground Firepit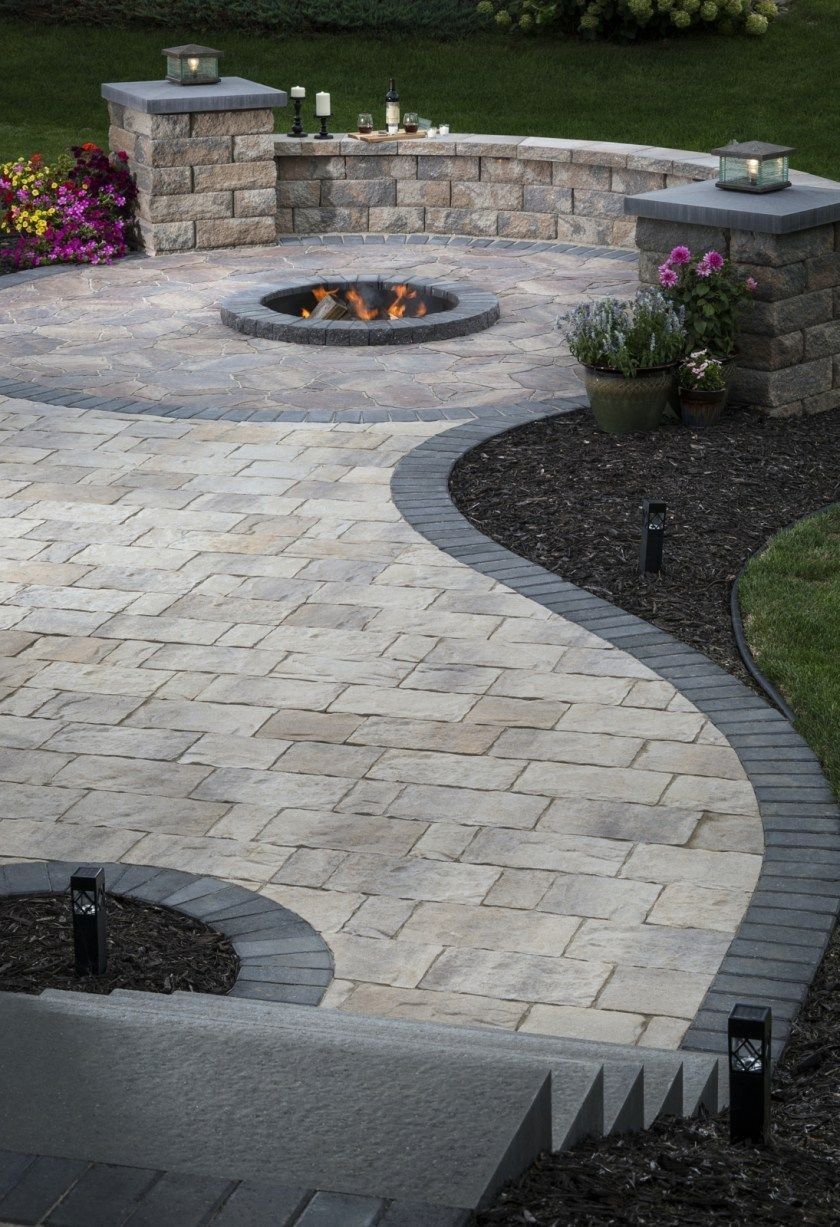 I stumbled upon this one-of-a-kind firepit option, and I love so many aspects of it! If you are looking to make a huge impact, then have your patio fire pit buried in the ground. It's low enough to look like it's an extension of the patio, and the circled stone around the fire pit adds to the elegance and style of the patio. It's beautiful and serene! There is no way you will ever want to leave your backyard if it looks like this.
Square Fire Pit Idea
What stands out about this fire pit we built is the unique square pattern. Don't get me wrong; there are some stunning circular firepits out there. But sometimes you want something that's a little different and more on the modern side.
If you have an open patio like this one, this is a great way to utilize a corner. Again, the wall serves a double duty purpose of framing the space in and providing a seating area.
You'll find once you have a fire pit installed, that it's the place everyone wants to hang out. Especially once the weather turns a little cooler, and you want to warm up and roast some marshmallows. Yum!
Custom Backyard Firepits in Dallas, Texas
Now that you have a few ideas for some backyard patio fire pits, you can get started planning on yours! You are going to love it once you have had it installed!
Give us a call today for a complimentary custom design, and learn how a custom firepit will perfect your outdoor living.